Mica pads
Our mica pads can be manufactured in almost any size you require, we currently produce them from 50mm x 50mm up to 1200mm x 1800mm, we do not carry stock sizes as our turnover is usually adequate for our customers needs, we have the capacity to undertake any quantity from single units to many thousands per year and will work on a call off basis for large orders.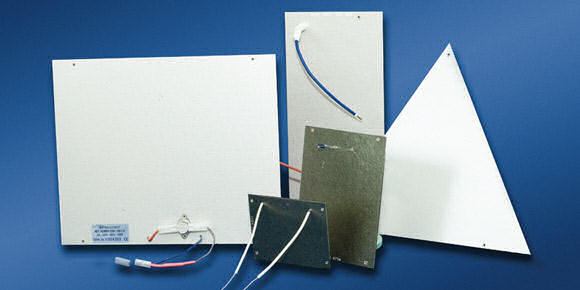 Manufactured primarily from UL approved mica paper sheet these heaters suit any flat surface area which needs uniform heat coverage especially useful in the catering industries, also suited to wall panel heaters, hot display cabinets and laboratory applications.
Specifications may include
Size range 50mm-1800mm in your size combination.
Shapes include circular, square, rectangular, triangular and unusual specifications.
Voltages from 6v through to 415v
Wattages usually between 30w to 2000w
Supply leads can be on any side either in between plate or through the top surface.
Terminations may be plain wire, sleeved high temperature, fibreglass coated wire or crimp terminals.
Phlogopite or muscovite materials ranging in thickness from .2mm upwards.