Mica Cutting Service
Here at Electric Elements Company Limited we try to offer a full range of services and are always leading the way in developing new element styles and processes, we are pleased now to be able to offer a highly detailed "Mica Cutting Service", intricate shapes and patterns are no longer a problem and can be cut in Mica ranging from 0.2mm right up to 2mm thick. We can work from most CAD drawings, however we also offer a "cut to sample" service if you do not have a drawing but do have the part you wish to reproduce.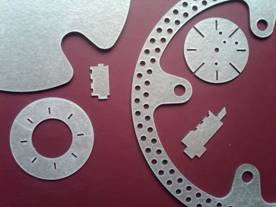 This means some of the more complicated heaters that could not be manufactured before we can now consider. So if your design requires parts with more complex shapes we will be only to happy to discuss with them with you. We will offer you quotations at very competitive rates and as always will cut 1 piece or many thousands depending on your needs.
Please feel free to contact us for further details.